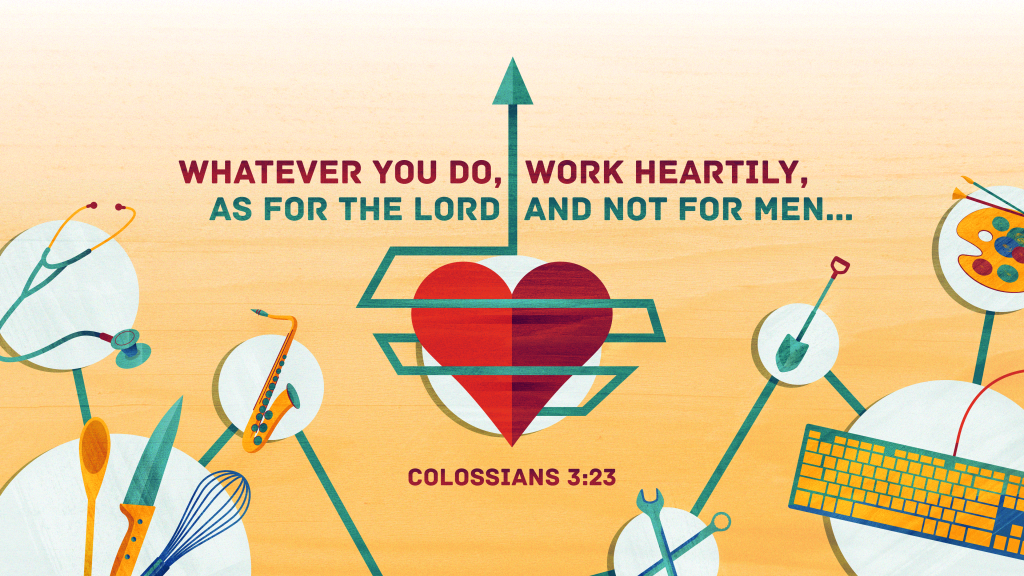 This past Sunday, I preached a sermon on what it means to live in light of being made a new creation in Christ. One of my targeted applications was how we must live in light of being made a new creation in our workplaces. This was my assertion:
So when we go through the transformation of the new creation, we must then begin to allow what has taken place in our heart to transform how we think and how we view our lives. We need to start thinking from the perspective of someone who has been changed at their very core…

…The reality is most of us in here have vocations – whether it's as a student, a full-time job in the marketplace, or as full-time stay at home parents – that take up the majority of our waking hours each week. We need to learn how to intentionally engage the subject of work and vocation with one another so the reality of the new creation can change the way we work.
The point is this. When we as Christians first confess the name of Christ, we are brought into union with him. This means that our hearts and our minds change as they begin to desire the glory of God rather than our own selfish desires. Our affections and thoughts are conformed to the image of Christ (Romans 8:29). This heart change will then overflow as it changes what we do and why we do it. I don't think any Christian would deny these statements. However, when it comes to our vocations, I do not think many of us understand what this truly means.
There is a common message that has spread amongst evangelicalism which says something like this: your role as a Christian in the workplace is to be someone who preaches the gospel and shares it with co-workers. This is a false. It is false not because this statement is untrue, but because it is far too minimalistic. A half-truth is still not true.
Our role in our workplaces is to work as if unto the Lord and reflect his glory ( 1 Corinthians 10:31, Ephesians 6:7, Colossians 3:17, 23-24). One aspect of this is that we are people who carry the hope of the gospel, but this is just one small piece. When we are made a new creation by the redeeming work of Christ (2 Corinthians 5:17, Galatians 6:15), everything we do can and must begin to reflect the image of God in us. The reason we get out of bed in the morning, why we even get in the car to go to work, the motivations behind the tasks and vocations we have been given – this all must change.
So what does that look like practically? Well, here are a few examples:
Engineers and software developers who, through a small act of creating their assigned projects, reflect the glory of God who is the creator of all things, and see to it that when their project is completed, it is "good" (Genesis 1).
Nurses, physical therapists and doctors who are instruments in the hand of God as they relieve the effects of the curse from the fall (death and decay), as they look forward to the day with hope when there will be no more sorrow, sickness or affliction (Revelation 21:4).
Teachers who can be a blessing to the nations as they raise up young men and women to go out into society (Genesis 12:2-3).
People in finance who work with integrity as they bring order to chaos and "seek the welfare of the city where I have sent you into exile" (Genesis 1:1-31, Jeremiah 29:7).
Workers in food and service industries who emulate the selflessness and service of Christ, even to those who reject them (Isaiah 53:3, Mark 10:45).
These are just a few ideas to challenge you in the way you see your vocations. Are your vocations sub-spiritual endeavors that merely make room for the "true" spiritual work of sharing the gospel? Or are they the means by which God is showing you grace by redeeming you and allowing you to reflect his attributes, as he makes you a beautiful new creation? Do you understand the difference?
I can see where the faulty theology of vocation comes from in our evangelical subculture today. There are still many strands of theology circulating today which find their origin in revivalist circles, which taught that our biggest priority is to save as many souls as fast as possible. I don't want to downplay the importance of souls being saved, but this is an anemic gospel. It is not only far too minimalistic, but it is also not the charge Jesus gave us before he ascended to heaven in glory (Matthew 28:18-20). To tell people that the only purpose of their job is to share the gospel – without teaching them what it means to reflect the glory of God through their every day efforts and vocations – is to emphasize making converts, but not disciples. This is not only bad teaching, but it is a sure sign of disobedience.