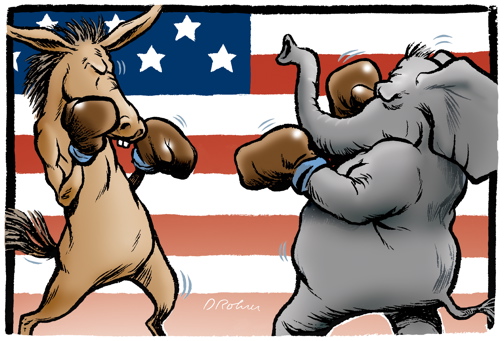 Although I wasn't able to watch last night's Democratic Debate live, I was able to catch up on all the clips, highlights and most tweetable moments from the debate. As I was deciphering all of the #damnEmails tweets and poor-taste comments about someone's Labrador for real information, I couldn't help but feel a certain conflict in me. For while there were some things I disagreed with that the political candidates were saying, there were also many issues that I did agree with. This reminded me of one of my favorite quotes from New York pastor Tim Keller:
The new, fast-spreading multi-ethnic orthodox Christianity in the cities is much more concerned about the poor and social justice than Republicans have been, and at the same time much more concerned about upholding classic Christian moral and sexual ethics than Democrats have been.
It seems to me that there is a revolution happening in young Christian circles, of which I consider myself a part. For many generations, there has been a culture in our churches where you were pitched one of two choices: either you're a Christian fundamentalist who always voted on the Right; or you were a progressive Christian who always voted on the Left. During the last election, many of my conservative Christian friends told me I wasn't really a Christian if I voted for a Democrat; my more liberal Christian friends said I couldn't truly obey the commands of Jesus if I voted Republican. In the end, it's the same accusation coming from two opposite ends of the spectrum. This has given way to the impression in our society that we are mindless, one-issue voters. I can't help but wonder if there isn't a better way.
When I talk with Christian millenials, there is a general attitude of being fed up with today's political system. Keller hits the nail on the head when he describes the conflict in many of today's young Christians. For too long individual churches and whole denominations have sponsored political functions and endorsed candidates by bringing them to speak at church gatherings. We've witnessed the results of what has often been blind, mindless, and careless adherence to political systems and ideologies. We struggle to be squeezed into any one political mold or model. Conservative and liberal are quickly becoming adjectives that are far too simplistic. Whereas political figures used to be able to rally entire populations around their agenda, millennial Christians are quickly realizing that the loudest voices in public discourse rarely speak for us.
I want to avoid the accusation of chronological snobbery, but isn't this the way it should be? Can kingdom-minded people be squeezed into the political categories of men? Rather than being the most one-sided voices in political discourse, shouldn't we be the most thoughtful? If we take the charge to steward the full council and wisdom of God seriously, then it is our responsibility to bring order, thoughtfulness, reason, and genuine empathy to the political table.
This means that it is going to be impossible for Christians to be blind, strict adherents to any one political system or party. We should not be a people who make character attacks, cheap shots on social media, or treat issues lightly. We should be a people who seriously think through each and every issue before coming to an informed decision. We should wrestle the convictions of our twisted and sinful hearts with the truths of all of Scripture – not just the easy verses. We should genuinely desire to listen to those we disagree with and understand them, seeking to interact with the best of their arguments – not the weakest. Christian leaders should flee from any action that will teach their people to be one-issue voters. Perhaps most importantly, we should understand that each decision impacts and changes the lives of real people – not just numbers in a news column.
Perhaps I'm too idealistic, but I long to see a thoughtful and educated culture amongst our churches. I long for a day when we realize that casting our vote for any one candidate means we will be giving up good qualities and positions from other candidates. I desire a time where I don't sign on to social media and see Christians posting cheap shot memes, jokes, articles and comments about political officers rather than taking up the command to earnestly pray for them.
One of my favorite authors and commentators on this subject is Professor Carl Trueman from Westminster Theological Seminary. In his book Republocrat, he closes with the following argument which summarizes my thoughts on this issue far better than I could. He writes:
Christians are to be good citizens, to take their civic responsibilities seriously, and to respect the civil magistrates appointed over us. We also need to acknowledge that the world is a lot more complicated than the pundits of Fox News (or MSNBC) tell us…. Christian politics, so often associated now with loudmouthed aggression, needs rather to be an example of thoughtful, informed engagement with the issues and appropriate involvement with the democratic process. And that requires a culture change. We need to read and watch more widely, be as critical of our own favored pundits and narratives as we are of those cherished by our opponents, and seek to be good stewards of the world and of the opportunities therein that God has given us.
It is my belief that the identification of Christianity, in its practical essence, with very conservative politics will, if left unchallenged and unchecked, drive away a generation of people who are concerned for the poor, for the environment, for foreign-policy issues…. We need to… [realize] the limits of politics and the legitimacy of Christians, disagreeing on a host of actual policies, and [earn] a reputation for thoughtful, informed, and measured political involvement. A good reputation with outsiders is, after all, a basic New Testament requirement of church leadership, and that general principle should surely shape the attitude of all Christians in whatever sphere they find themselves. Indeed, I look forward to the day when intelligence and civility, not tiresome cliches, character assassinations, and Manichean noise, are the hallmarks of Christians as they engage the political process. (pg. 108-110)
As we head into the next political cycle, this is the culture change and climate I'll be praying for. Will you join me?