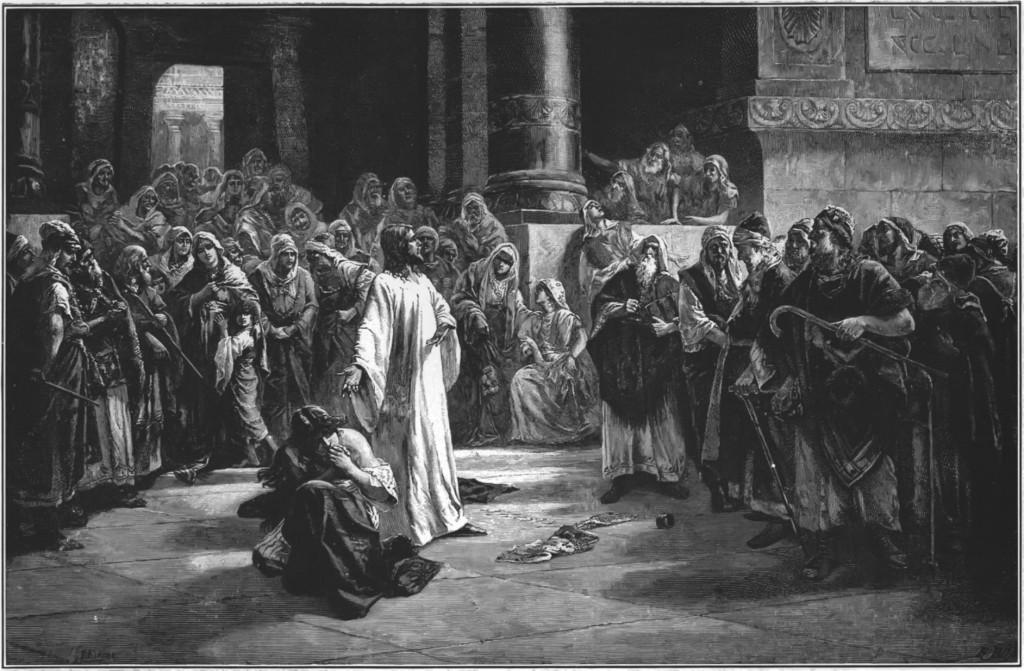 "Don't judge me!"
"Christian's aren't supposed to judge!"
"Judge not, lest ye be judged!"
Do any of these sound familiar? The above sayings are a few common examples of all-too-often used statements from people who either reject the entirety of the Christian faith, or some of it's key tenets. Just look at any public discussion – specifically online – where Christianity comes up, and such statements run rampant. But are these sayings accurate? Does Christianity, specifically Jesus himself teach that we aren't to judge one another?
The truth is, everybody want's Jesus on their side. We live in an age where the majority of the population is Biblically illiterate, and rather than investigate what they hear for themselves they trust the first thing they hear that already agrees with their beliefs. Those who hold to the belief that Jesus' followers aren't to judge anyone will often reference either John 8:7 ("Let him who is without sin among you be the first to throw a stone at her."), or Matthew 7:1 ("Judge not, that you be not judged."). From a plain reading, one might conclude that Jesus did in fact teach that his followers are not to make any judgment whatsoever. The Bible has a lot to say about judging one another – but since even non-Christians like to quote Jesus to make their point, let us look specifically at these verses in their appropriate contexts to see what Jesus really had to say about judging people.
The Terms
Before we continue, we need to define what it means to even judge someone or something. The classical view of "judgment", that is the one that exists in the dictionaries and was the understanding in society up until the post-modern era, says this:
to form an opinion about through careful weighing of evidence and testing of premises
to determine or pronounce after inquiry and deliberation
to hold as an opinion
to form an opinion
Inc Merriam-Webster, Merriam-Webster's Collegiate Dictionary., Eleventh ed. (Springfield, MA: Merriam-Webster, Inc., 2003).
By classical standards, to judge someone or something merely means to form an opinion about the object or person in question. Only in our post-modern context does this word carry a negative tone to it – where casting judgment is wrong if it offends someone, or disagrees with something they do or say. We like judgment when it makes us feel good – if we do well on something and we get complimented, we love judgment! However, when people don't think we did something right or disagree with our actions, all of a sudden we hate judgment and we start yelling at people.
For the remainder of this article, I will be using the classical definition of judgment.
John 8
Let us dive deeper into the passage from John 8. The first key to examining any verse in the Bible is in what context does it fall. I can take any verse out of the Bible and make it say anything I want, the question is – is that what the verse meant in it's original context?
Starting in verse 1 of chapter 8, Jesus is on his way to the temple. As he was teaching there, the scribes and the Pharisees (the legalistic teachers of the law who were always trying to undermine Jesus and eventually got him placed on the cross) bring a woman to him who was caught in adultery. In verse 4 they say to him "Teacher, this woman has been caught in the act of adultery. Now in the Law Moses commanded us to stone such women. So what do you say?"
I can only imagine the tension of this encounter. Every time the Pharisees encounter Jesus, they try to catch him in a trap and get him to contradict the law of Moses. It always amazes me to see how Jesus responds, truly showing the ignorance of us petty humans and how we always try to take control of everything. In verse 6, Jesus bends down and began to write with his finger in the ground (Nobody knows for sure what he wrote, as the passage does not say. For you Bible nerds out there, check out Jeremiah 17:13 for a pretty strong connection to say that Jesus may have been writing their names in the sand). As the Pharisees and scribes continue to speak, Jesus responds with the classic go-to line "Let him who is without sin among you be the first to throw a stone at her."
John's gospel goes on to say that when they heard what Jesus said, they began to walk away one by one. Left with merely the woman before him, this encounter concludes with Jesus telling the woman "Neither do I condemn you; go, and from now on sin no more."
Before we draw conclusions from what this passage means, let's examine the passage from Matthew as well. With both stories in view, our conclusions will make much more sense.
Matthew 7
This passage in Matthew begins with our verse in question right away. Starting in verse 1, "Judge not, that you be not judged…" As we said above, it is absolutely imperative that we take this verse in context and read what the rest of the passage has to say. I will put the remainder of the passage below:
2 For with the judgment you pronounce you will be judged, and with the measure you use it will be measured to you. 3 Why do you see the speck that is in your brother's eye, but do not notice the log that is in your own eye? 4 Or how can you say to your brother, 'Let me take the speck out of your eye,' when there is the log in your own eye? 5 You hypocrite, first take the log out of your own eye, and then you will see clearly to take the speck out of your brother's eye.
The Holy Bible: English Standard Version (Wheaton: Standard Bible Society, 2001), Mt 7:2–5.
Let's skip to verse 3, and work our way back to verse 2. Verses 3-4 use a speck/log analogy; what Jesus is saying here is that we should not seek to judge a sin in someones life if we struggle with that sin ourselves. As an example, it would be wrong for me to tell my friend to stop lusting after women if I have a deep pornography addiction. Another example would be if I stored up all of my money for myself and gave none of it away to charity and the church, and then told someone else that they weren't using their money wisely. I would be telling someone to remove the speck from their eye while I had a giant log in mine. Verse 5 tells us that it is hypocritical judgment that Jesus is speaking about. In fact, verse 5 actually tells us to wage war on and confess our own sin before we try to tell someone else they have a similar problem. Finally moving back to verse 2, we see that Jesus is talking about hypocritical, unrighteous judgment. It is the level of unrighteous, undue judgment that we place on another that God himself will judge us.
Conclusions
We could look at a number of passages from the gospels and see what Jesus has to say about judging others (and I could write 5 more posts about what the rest of the Bible has to say about judging others). In numerous passages, such as Matthew 18:15-20 or John 7:24 righteous judgment is actually encouraged. It is through the lens of others that our sins are often made known, and this is the way God has set up his church. It is necessary for us to surround ourselves in a community of other Christians, as we are to admonish and exhort one another daily to follow after Christ. This is to be done in love, as we confess our sins to one another and pursue holiness.
For brevity's sake, let's analyze Matthew 7 and John 8 together now that we've examined them in context. Once fully understood, it is impossible to conclude that Jesus is saying not to cast any opinion or judgment on another. What Jesus condones is hypocritical, blinded judgment where we point fingers at others while inside we are completely muddy sinners. In John 8, Jesus himself judges the adulterous woman by telling her to "go and sin no more". That is, do not continue to make a habit of your old sinful ways, but now live a life pursuing holiness.
In John 8 we also get the beautiful picture of the gospel: "I do not condemn you". Oh, how sweet the words! As incredibly jacked up human beings who break God's laws daily, we all deserve consequence and condemnation for our sin yet because of the cross there is none for those who are in Christ. How deep the fathers love for us! When we see such love, how can we do anything but respond to the call to go and put our sin to death?
Through all of this, my exhortation to the Christian is this: please do a deep and thorough heart examination before you go and point out the sin of others. Our actions, when they reek of hypocrisy, are laughable to those whom we try to live as an example to. These words aren't just for you, they're for myself.