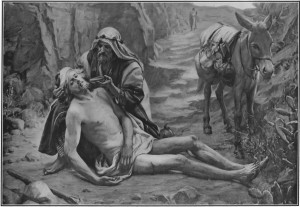 I've been thinking a lot lately about that popular saying, "Preach the gospel at all times, and when necessary use words." It gets tossed around frequently and is commonly attributed to St. Francis of Assisi, although there really isn't solid proof for that citation. Now, I get it. The purpose and intent of the quote is often used in the context of spurring us on to be good neighbors toward others. And that's great. The problem is, doing good things for other people is not the equivalent of preaching the gospel. Preaching the gospel is an audible proclamation that requires a response (Romans 10:8-10).
We in more conservative theological circles tend to attack this popular phrase as being naive or, even worse, plain stupid. I remember hearing Pastor John MacArthur say at this years T4G conference that he wouldn't attribute this quote to anyone, let alone St. Francis, because of how stupid it is. Similarly, Pastor RC Sproul Jr. is known for saying, "Preach the gospel at all times, if necessary, rebuke anyone who says 'if necessary, use words.'"
But I think if we're honest, for all of our theological correctness about what preaching the gospel is and what it is not, we tend to let this be an excuse to – well – not be a good neighbor. We can get so hung up on having the best apologetic responses and defense of Christianity, so caught up in trying to make sure that we know every word we'll say to someone about our faith, that we never pull the trigger and actually tell somebody. Or, even worse, we're so caught up in our "good theology" that what we say to people comes off as cold, indifferent or even mean. That's probably because it is.
Theological correctness should never be an excuse for neglecting the call to be a good, kind and hospitable neighbor toward others.
Recall some of the faithful Christians who have had the most impact on your life and faith. If you think about it for a second, you'll realize that the reason they had so much impact on you was not only because of what they said but because of how they said it. You'll probably remember these individuals as being warm, kind, hospitable, gentle, humble and caring.
What happens when we combine the audible proclamation of the gospel with warm, kind, hospitable, gentle and humble actions? We incarnate Christ himself; we physically represent the truths that we proclaim. See, the gospel will always be offensive; but not you. Christian, you are called to be warm, kind, hospitable and gentle towards others. This fact does not come at the expense of theological accuracy.
I don't know what this looks like for you, but take time to think about how this dual reality of gospel proclamation and Christ-like character should shape your attitude towards friends and neighbors. Maybe you just need to bake cookies for someone or mow their lawn. Call them when you know they're having a hard time. Buy their kid a birthday present. Spend time thinking about how you can just be a kind neighbor toward others and, when the time comes, preach the gospel with bold, audible words.