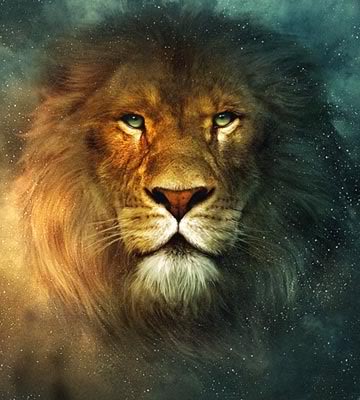 But it is very striking that in the New Testament the terms for calling, when used specifically with reference to salvation, are most uniformly applied, not to the universal call of the gospel, but to the call that ushers men into a state of salvation and is therefore effectual. – John Murray, Redemption Accomplished and Applied
God is faithful, by whom you were called into the fellowship of his Son, Jesus Christ our Lord. – 1 Corinthians 1:9
—–
Jill and Eustace didn't know how to get Narnia. But they figured calling out to Aslan – whom Jill had not yet met – couldn't hurt.
Sure enough, it worked.
And that's when Jill first met Aslan…
—–
Just on this side of the stream lay the lion.
It lay with its head raised and its two forepaws out in front of it, like the lions in Trafalgar Square. She knew at once that it had seen her, for its eyes looked straight into hers for a moment and then turned away – as if it knew her quite well and didn't think much of her.
"If I run away, it'll be after me in a moment," thought Jill. "And if I go on, I shall run straight into its mouth." Anyway, she couldn't have moved if she had tried, and she couldn't take her eyes off it. How long this lasted, she could not be sure; it seemed like hours. And the thirst became so bad that she almost felt she would not mind being eaten by the lion if only she could be sure of getting a mouthful of water first.
"If you're thirsty, you may drink."
They were the first words she had hears since Scrubb (Eustace) had spoken to her on the edge of the cliff. For a second she stared here and there, wondering who had spoken. Then the voice said again, "If you are thirsty, come and drink," and of course she remembered what Scrubb had said about animals talking in that other world, and realized that it was the lion speaking. Anyways, she had seen its lips move this time, and the voice was not like a man's. It was deeper, wilder, and stronger; a sort of heavy, golden voice. It did not make her any less frightened than she had been before, but it made her frightened in rather a different way.
"Are you not thirsty?" said the Lion.
"I'm dying of thirst," said Jill.
"Then drink," said the Lion.
"May I – could I – would you mind going away while I do?" said Jill.
The Lion answered this only by a look and a very low growl. And as Jill gazed at its motionless bulk, she realized that she might as well have asked the whole mountain to move aside for her convenience.
The delicious rippling noise of the stream was driving her nearly frantic.
"Will you promise not to – do anything to me, if I do come?" said Jill.
"I make no promise," said the Lion.
Jill was so thirsty now that, without noticing it, she had come a step closer.
"Do you eat girls?" she said.
"I have swallowed up girls and boys, women and men, kings and emperors, cities and realms," said the Lion. It didn't say this as if it were boasting, nor as if it were sorry, not as if it were angry. It just said it.
"I daren't come and drink," said Jill.
"Then you will die of thirst," said the Lion.
"Oh dear!" said Jill, coming another step nearer. "I suppose I must go and look for another stream then."
"There is no other stream," said the Lion.
It never occurred to Jill to disbelieve the Lion – no one who had seen his stern face could do that – and her mind suddenly made itself up. It was the worst thing she had ever had to do, but she went forward to the stream, knelt down, and began scooping up water in her hand. It was the coldest, most refreshing water she had ever tasted. You didn't need to drink much of it, for it quenched your thirst at once. Before she tasted it she had been intending to make a dash away from the Lion the moment she had finished. Now, she realized that this would be on the whole the most dangerous thing of all. She got up and stood there with her lips still wet from drinking.
"Come here," said the Lion. And she had to. She was almost between its front paws now, looking straight into its face. But she couldn't stand that for long; she dropped her eyes.
"…the Boy is safe. I have blown him to Narnia. But your task will be the harder because of what you have done."
"Please, what task, Sir?" said Jill.
"The task for which I called you and him here out of your own world."
This puzzled Jill very much. "It's mistaking me for someone else," she thought. She didn't dare to tell the Lion this, though she felt things would get into a dreadful muddle unless she did.
"Speak your thought, Human Child," said the Lion.
"I was wondering – I mean – could there be some mistake? Because nobody called me and Scrubb, you know. It was we who asked to come here. Scrubb said we were to call to – to Somebody – it was a name I wouldn't know – and perhaps the Somebody would let us in. And we did, and then we found the door open."
"You would not have called to me unless I had been calling to you," said the Lion.
—–
And we know that for those who love God all things work together for good, for those who are called according to his purpose. 29 For those whom he foreknew he also predestined to be conformed to the image of his Son, in order that he might be the firstborn among many brothers. 30 And those whom he predestined he also called, and those whom he called he also justified, and those whom he justified he also glorified.
Romans 8:28–30


The following is an excerpt of my favorite scene from C.S. Lewis' Chronicles of Narnia book series. This excerpt comes from The Voyage of the Dawn Treader, Chapter 7. One of the characters of this story, Eustace, has just been turned into a dragon. Nobody likes Eustace, for he was a vain, cruel and selfish little boy who was "accidentally" sucked into Narnia with two of the main characters, Lucy and Edmund. One day Eustace had went out on his own and out of his greed he stole a dragon's treasure. What Eustace did not know was that in Narnia, stealing a dragon's treasure turn's you yourself into a dragon!
This terrible transformation causes a change in heart in Eustace, for he now realizes how much he hates being a dragon and how nasty he used to be to his friends. Eustace now just wants to be a good help and friend to those dearest to him, even if he is a dragon.
But then, the oddest of things happens…Eustace encounters a certain lion and recounts the story to Edmund…
—–
Eustace: "Well, anyway, I looked up and saw the very last thing I expected: a huge lion coming slowly toward me. And one queer thing was that there was no moon last night, but there was moon-light where the lion was. So it came nearer and nearer. I was terribly afraid of it. You may think that, being a dragon, I could have knocked any lion out easy enough. But it wasn't that kind of fear. I wasn't afraid of it eating me, I was just afraid of it – if you can understand. Well, it came close to me and looked straight into my eyes. And I shut my eyes tight. But that wasn't any good because it told me to follow it."
Edmund: "You mean it spoke?"
"I don't know. Now that you mention it, I don't think it did. But it told me all the same. And I knew I'd have to do what it told me, so I got up and followed it. And it led me a long way into the mountains. And there was always this moonlight over and round the lion wherever we went. So at last we came to the top of a mountain I'd never seen before and on the top of this mountain there was a garden – trees and fruit and everything. In the middle of it there was a well."
"I knew it was a well because you could see the water bubbling up from the bottom of it: but it was a lot bigger than most wells – like a very big, round bath with marble steps going down into it. The water was as clear as anything and I thought if I could get in there and bathe it would ease the pain in my leg. But the lion told me I must undress first. Mind you, I don't know if he said any words out loud or not."
"I was just going to say that I couldn't undress because I hadn't any clothes on when I suddenly thought that dragons are snaky sort of things and snakes can cast their skins. Oh, of course, thought I, that's what the lion means. So I started scratching myself and my scales began coming off all over the place. And then I scratched a little deeper and, instead of just scales coming off here and there, my whole skin started peeling off beautifully, like it does after an illness, or as if I was a banana. In a minute or two I just stepped out of it. I could see it lying there beside me, looking rather nasty. It was a most lovely feeling. So I started to go down into the well for my bathe."
"But just as I was going to put my feet into the water I looked down and saw that they were all hard and rough and wrinkled and scaly just as they had been before. Oh, that's all right, said I, it only means I had another smaller suit on underneath the first one, and I'll have to get out of it too. So I scratched and tore again and this underskin peeled off beautifully and out I stepped and left it lying beside the other one and went down to the well for my bathe."
"Well, exactly the same thing happened again. And I thought to myself, oh dear, how ever many skins have I got to take off? For I was longing to bathe my leg. So I scratched away for the third time and got off a third skin, just like the two others, and stepped out of it. But as soon as I looked at myself in the water I knew it had been no good."
"Then the lion said – but I don't know if it spoke- 'You will have to let me undress you.' I was afraid of his claws, I can tell you, but I was pretty nearly desperate now. So I just lay flat down on my back to let him do it."
"The very first tear he made was so deep that I thought it had gone right into my heart. And when he began pulling the skin off, it hurt worse than anything I've ever felt. The only thing that made me able to bear it was just the pleasure of feeling the stuff peel off. You know – if you've ever picked the scab of a sore place. It hurts like billy-oh but it is such fun to see it coming away."

"I know exactly what you mean," said Edmund.
"Well, he peeled the beastly stuff right off – just as I thought I'd done it myself the other three times, only they hadn't hurt – and there it was lying on the grass: only ever so much thicker, and darker, and more knobbly-looking than the others had been. And there was I as smooth and soft as a peeled switch and smaller than I had been. Then he caught hold of me – I didn't like that much for I was very tender underneath now that I'd no skin on – and threw me into the water. It smarted like anything but only for a moment. After that it because perfectly delicious and as soon as I started swimming and splashing I found that all the pain had gone from my arm. And then I saw why. I'd turned into a boy again. You'd think me simply phony if I told you how I felt about my own arms. I know they've no muscle and are pretty mouldy compared with Caspian's, but I was so glad to see them"
"After a bit the lion took me out and dressed me – "
"Dressed you. With his paws?"
"Well, I don't exactly remember that bit. But he did somehow or other: in new clothes – the same I've got on now, as a matter of fact. And then suddenly I was back here. Which is what makes me think it must have been a dream."
"No. It wasn't a dream," said Edmund.
"Why not?"
"Well, there are the clothes, for one thing. And you have been – well, un-dragoned, for another."
"What do you think it was, then?" asked Eustace.
"I think you've seen Aslan," said Edmund.