I've previously written on a book about Dietrich Bonhoeffer, a book that I was very delighted to read and recommend to readers of this blog.
Bonhoeffer is a figure from contemporary church history that I do not think it is possible to read "too much" of. He is delightfully quotable and thoroughly convicting; a man with much to say about the Christian life in reality of this side of the cross.
There are many books one could select from to encounter Bonhoeffer. Many people today discover Bonhoeffer through the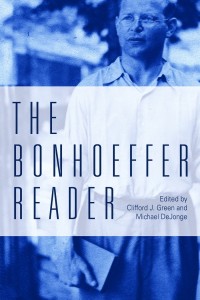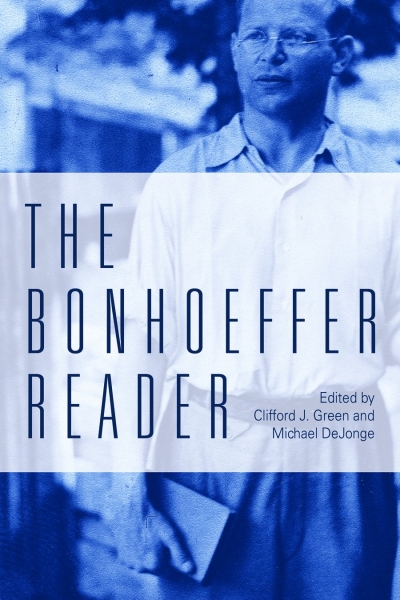 popular biography by Eric Metaxas; others discover him after hearing Life Together or The Cost of Discipleship quoted by their pastor. If you want an introduction to Bonhoeffer as a preacher, you could read Isabel Best's The Collected Sermons of Dietrich Bonhoeffer. Beyond those foundational texts, it is hard for the student or lay person to find another resource to continue their experience with Dietrich Bonhoeffer.
This is why I was incredibly thrilled at the release of The Bonhoeffer Reader, edited by Clifford Green and Michael Dejonge and published by Fortress Press. Based on the recent and massive publication of the Dietrich Bonhoeffer Works English Edition (DBWE), The Bonhoeffer Reader is meant to serve the general reader or beginning student. This book provides a series of excerpts from Bonhoeffers life, from those written as a young student to texts published shortly after his death. These readings also cover a wide variety of genres, from academic texts to lecture notes and other short pieces. It is for this reason that The Bonhoeffer Reader is considered primarily a theological reader; it gives us depth and insight into the theological mind of Bonhoeffer not formerly available to a wide audience.
There are many features about this book that make it a great resource for lay-readers and students alike. First, the breadth of wisdom over a large variety of topics has been included for all readers. Bonhoeffers writings on Ethics, Ecumenism, the German Church, Christian life, and his University writings/lectures are all included. Secondly, the footnotes for this text have been largely stripped down in comparison to its DBWE counterpart, making them more readable for a wide audience. One of the greatest features of this text is that in its margins, the page numbers corresponding to the DBWE are included. This is a great feature to include for students who may read an excerpt in The Bonhoeffer Reader and then desire to continue reading the entire piece in the DBWE at a local library. I am also thrilled at any text that includes an index of Scripture references, which is readily available in the back of this book (as well as an index of names).
Each work included by Bonhoeffer includes a brief introduction and background included by the editors. These inclusions provide moments of history in Bonhoeffers life that really make the writings "pop" to the reader. An example of the impacts in this attention to detail is seen in the short work entitled Protestantism Without Reformation. The history provided tells the reader that this work was written shortly after Bonhoeffers return from his second visit to the United States at a time when he was seriously considering the differences between the American and German churches. This would be some time before his arrest that led to his eventual martyrdom. In this work he writes:
Throughout the history of the church, endurance and flight in times of persecution have been the two Christian possibilities, since the days of the apostles. Endurance to the point of last resistance may be commanded; flight may be permitted or perhaps even commanded. The flight of a Christian in times of persecution is not apostasy and disgrace as such, for God does not call every person to martyrdom. Not flight but denial is sin, although there may be a situation where flight is the same as denial or, conversely, where flight itself may be a part of martyrdom (pg. 577).
When I first read this, I was in awe of Bonhoeffers prophetic words on his own life. Could it be possible that even at this time Bonhoeffer could sense God calling him to death for his church?
Bonhoeffer is a man who has much to say to us today, and is someone we would be wise to invest and listen to. It is for this reason I would heartily and readily encourage The Bonhoeffer Reader to any general reader, student or pastor seeking to move beyond the biographical or introductory texts previously available to them. This is a resource I would recommend being available to any individual curious in the theology and works of Dietrich Bonhoeffer.