My Dad and Stepmom recently sent me a copy of the United Methodist Hymnal. I was immediately struck when I opened it up to the third page and read John Wesley's seven directions for singing from his Select Hymns of 1761. I share these tips now because they had an impact on me and I hope they do for you as well. I've placed a few of my own comments as well (in italics).
1. Learn these tunes before you learn any others; afterwards learn as many as you please
2. Sing them exactly as they are printed here, without altering or mending them at all; and if you have learned to sing them otherwise, unlearn it as soon as you can.
These directions seem a little strict at first glance. I think the reason for Wesley's first two directions here is that he takes seriously the necessity of congregational singing (Eph 5:19, Col. 3:16), and he wants to prevent as many barriers to that as possible. Think about it: how often do we fight over the version of an old hymn that we are singing, rather than just rejoice in singing the hymn together? Perhaps if we had stuck to only one way of singing "Be Thou My Vision" there would be less worship wars. I'm not saying Wesley is 100% right here, but there might be some wisdom in his advice.
3. Sing all. See that you join with the congregation as frequently as you can. Let not a slight degree of weakness or weariness hinder you. If it is a cross to you, take it up, and you will find it a blessing.
There are many days where I have not wanted to attend church due to some weariness or burden currently in my life. However, I have often found that the days I do not want to gather with the church the most are the ones in which I come away the most blessed by my time gathered with God's people. There is wisdom in what the writer of the Hebrews instructs us with, "And let us consider how to stir up one another to love and good works, not neglecting to meet together, as is the habit of some, but encouraging one another, and all the more as you see the Day drawing near (Hebrews 10:24-25)."
4. Sing lustily and with a good courage. Beware of singing as if you were half dead, or half asleep; but lift up your voice with strength. Be no more afraid of your voice now, nor more ashamed of its being heard, than when you sung the songs of Satan.
5. Sing modestly. Do not bawl, so as to be heard above or distinct from the rest of the congregation, that you may not destroy the harmony; but strive to unite your voices together, so as to make one clear melodious sound.
One thing I have found lacking in most churches I visit is the willingness of men (in particular) to sing loudly and clearly in worship. This should not be! We are not self-conscious of what our brothers and sisters think, we are gathered to praise the Lord. He as gifted us with voices, let us use them in one accord.
6. Sing in time. Whatever time is sung be sure to keep with it. Do not run before nor say behind it; but attend close to the leading voices, and move therewith as exactly as you can; and take care not to sing too slow. This drawling way naturally steals on all who are lazy; and it is high time to drive it out from us, and sing all our tunes just as quick as we did at first.
7. Above all sing spiritually. Have an eye to God in every word you sing. Aim at pleasing him more than yourself, or any other creature. In order to do this attend strictly to the sense of what you sing, and see that your heart is not carried away with the sound, but offered to God continually; so shall your singing be such as the Lord will approve here, and reward you when he cometh in the clouds of heaven.
I'm not against elaborate instrumentation in corporate worship. However, one side effect I have noticed in some congregations is that the time of worship is more like a performance rather than an opportunity for the congregation to be led in worship. Such performance cultures have a tendency to remove people from the act of what they're actually doing and instead get caught up in the sound of the songs. Whatever our instrumentation and philosophy of worship may be, they must facilitate the act of congregational worship – not performance.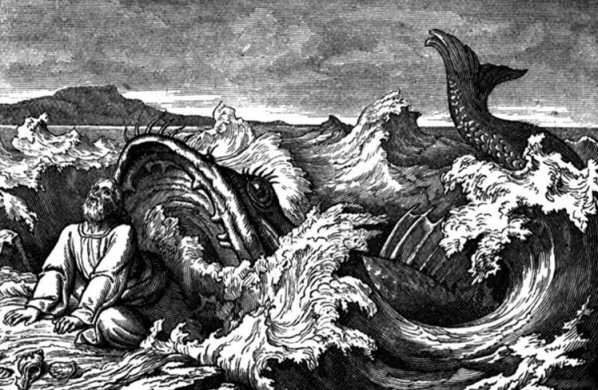 Most of us are familiar with the Biblical story of Jonah. It is a story that entrenched itself into the culture around us. Even the widely popular movie The Avengers assumed the culture's familiarity with this story in the classic showdown between Iron Man and one of the Leviathan monsters. Even the AI Jarvis knew of Jonah – and that he was not a model to be emulated.
Just to refresh your memories on the arc of the story, allow me to fill in the main points briefly. Jonah was a prophet who was called by God to go and preach to the Gentile city of Nineveh. Jonah didn't like Gentiles, however, and he would have preferred to preach to his people – the Jews. So, he comes up with an elaborate plot to run from Nineveh by getting on a boat heading to Tarshish, the exact opposite direction of Nineveh! The Lord had other plans for Jonah, and so he sent a great storm upon his boat. The rest of the passengers on the boat realize that Jonah is the cause of the great storm descending upon their boat, and so they hurled Jonah into the sea where he was then eaten by a great fish. Jonah was kept alive in the belly of the fish for three days until he was repentant, at which point the fish spit him out and Jonah proceeded to go to Nineveh, just as God had always wanted.
You've probably heard various sermons and messages on this story, presumably about the will of God and his sovereignty over our lives. Yet, something very interesting happens very early on in this story that I think most of us overlook. While Jonah is on the boat with the mariners, they ask him of what people and country he comes from. Jonah's response is striking. He says, "I am a Hebrew, and I fear the Lord, the God of heaven, who made the sea and the dry land (Jonah 1:9)." In other words, Jonah is saying that he has a great reverence for God and worships him in everything that he does. Note the irony here – Jonah is in the midst of running from the explicit task God has given him over his life, yet is telling others that he has a reverent fear for the Lord!
What we can take away from this is that Jonah is not only an example of what it means to know that God is sovereign over our lives, but he is also a bad example of what it means to pursue our God-given vocations.
There is a common misconception in Christian circles that the goal of Christian vocation is primarily to evangelize and bring a gospel witness to the workplace. I have heard it said by pastors that our vocations are really just a mask and a cover for God's true purpose in our workplace – evangelism. I understand what they're trying to do with such arguments, but unfortunately this conveys an unbiblical and non-Christian view of a God-honoring work ethic.
Jonah was a prophet. God's call for Jonah as a prophet was to go to Nineveh and preach to the Gentiles. God-honoring obedience and a proper sense of his vocation should have driven Jonah to go to Nineveh. Were Jonah to originally have done this, he would have been a good prophet and an obedient prophet. He would have fulfilled God's purposes for his vocation.
In a similar way, we all have vocations. Some of us are nurses, others are software developers or business analysts. Some of us are lawyers, and others are students or janitors. Regardless of where you find yourself on this vocational spectrum, one thing should be clear to us from the story of Jonah: we are called to be good and obedient at what we do. Perhaps we could even say that the most important part of our vocation is not what we are doing but how we do it. To put it another way, perhaps instead of focusing so much on what God has called us to do, we should focus on how we are doing the vocations God has currently placed us in. The primary goal for you in your vocation is not to evangelize (although this is important), but it is to have a reverent sense of fear and worship for God in what you do. We are called to be faithful and excellent employees, regardless of our trade or our occupation. This brings God glory and honor for who he is, as we praise him in all areas of our lives – including our vocations.
We can draw this principle from the New Testament as well. The Apostle reminds us, "Whatever you do, work heartily, as for the Lord and not for men, knowing that from the Lord you will receive the inheritance as your reward. You are serving the Lord Christ (Colossians 3:23-24)." Our vocations are a means to work as if unto the Lord. Through the work we do with our minds and our hands, we bring God glory when it is work given over to him.
Christian, be encouraged today that God has called you to serve him in all walks of life, including your vocation. See your jobs and workplaces as a means by which you can serve God and worship him. You are free to strive for excellence at your vocation not to bring glory to yourself, but in order to worship God. Find joy in the fact that God has chosen you to work unto him with the gifts he has given you.