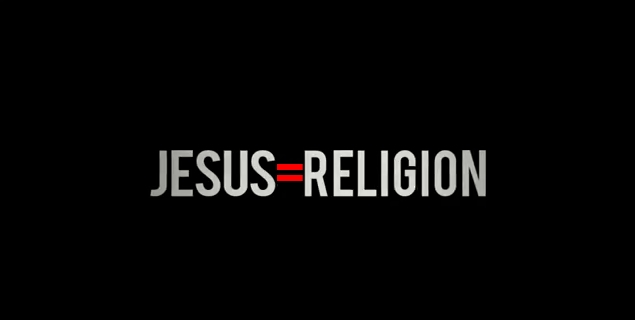 In the opening line to his poem Why I Hate Religion, But Love Jesus, Jefferson Bethke says this: "What if I told you Jesus came to abolish religion?" I'm not trying to review a two-year-old video and I'm not trying to take a stab at Mr. Bethke, but his comment and poem articulate a sentiment common and pervasive in Evangelicalism today. Wanting to separate themselves from the empty rituals and meaningless church-going habits of the generation before them, we Evangelicals today flaunt a Christianity that isn't a "religion" but a "relationship." T-shirts, books, and 26-million-views YouTube videos all scream one unanimous fact: Evangelicals hate the word "religion."
But is this hatred valid? Is it even Biblical?
The Websters dictionary defines religion simply as "the belief in a god or in a group of gods; an organized system of beliefs, ceremonies and rules used to worship a god or a group of gods." Semantically speaking, doesn't that define Christianity? Now, I get it. Christianity is different from most world religions because it address matters of the heart. The Gospel of Mark tells us that Jesus is primarily concerned with matters of the heart (Mark 12:41-44), and Luke records for us that it is a contrite heart and not our outward acts by which we honor God (Luke 18:8-14). Through the prophet Ezekiel, God says he will replace our heart of stone and instead give us a heart of flesh (Ezekiel 36:26).
But didn't Jesus himself say that he was "the Way" (John 14:6)? And couldn't we (loosely) agree that following "the Way" means repentance and faith, a contrite heart, participating in Christ-instituted practices (such as baptism and the Supper, church discipline, etc.), living all of life as worship, belonging to and serving Christ's church (which brings up another host of issues for evangelicals who want to have Christ without his bride), feasting on the Word, and a Spirit-fueled life of good deeds towards our fellow men?
So…isn't that religion?
Whereas the Apostle Paul's primary concern in his letters is often man's standing before a Righteous God (especially Romans), James' Epistle is primarily concerned with our standing before our neighbor. One way that is helpful to read the book of James is by asking the question, "In light of Christ's sacrifice on the cross, how then shall we live?" James' answer is that the life of a true Christian must be filled with good deeds.
Anticipating the rebellion of 21st century Evangelicals, James writes this:
Religion that is pure and undefiled before God, the Father, is this: to visit orphans and widows in their affliction, and to keep oneself unstained from the world. – James 1:27
James answers the question above with this answer: Jesus FUELS Religion. Jesus is THE Way; He is THE Religion. In light of his substitutionary sacrifice for sinners – standing in our place – and the gift of the Holy Spirit, it is only in Christ that true religion is possible. It is because Christ gives us a new heart that we can participate in true, heart-filled and Spirit-led religion.
Bethke continues in his poem by saying, "Jesus and religion are two different clans." Evangelicals today want to use the term "religious" to describe hypocritical, judgmental, and non-genuine followers of Jesus. Now I get it, by all means let us separate ourselves from empty, lifeless practices. But that isn't what "religious" means. The Bible has plenty of other terms to describe those kinds of people (Pharisee, white-washed tomb, brood of vipers, "Be gone I never knew you," etc.); "religious" isn't one of them.
I understand what is intended by the phrase "Christianity is a relationship and not religion," but this is a dishonest quip for us to stand by. We would do well to drop this falsely created idea that Christianity is not religion. Instead, it would be wise to take the time with our neighbor to redefine what makes our religion different from the pantheon of false religions; a gracious and unrelentingly loving God, a perfect and substitutionary Savior who descends from his throne to rescue his people, and an in-dwelling God who by His Spirit fuels our obedience and faith.