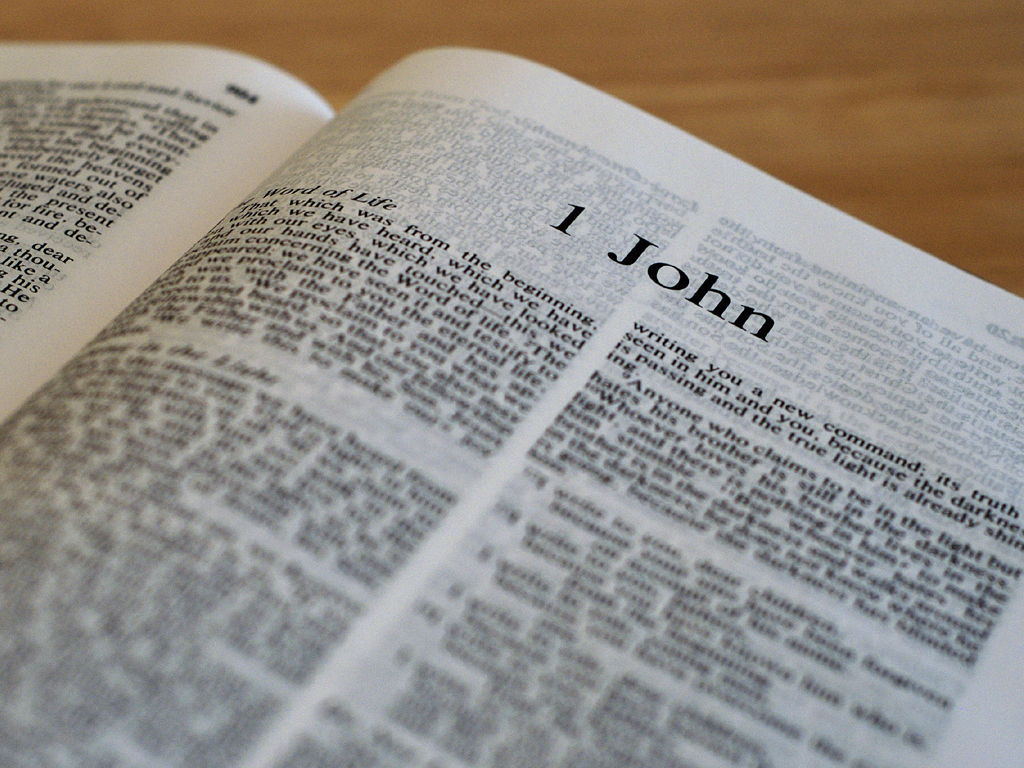 Having eyes do you not see, and having ears do you not hear? – Mark 8:18
—–
The Scriptures are clear that God's love and grace toward us in Christ fuel our love for God and our neighbor. There is no way that we can work for grace and we do not work our way to God. This would defeat the very meaning of the word.
Despite this redemptive reality seen in Jesus, this concept is often lost in today's churches. Some claim that this idea of grace-fueled obedience would lead to apathy, lawlessness and passiveness (antinomianism). Others, proving the point of the former group, say that any kind of "work" is just meaningless religion, and all that matters is that you claim the name of Jesus and believe he died for sins.
As is often the case, both extremes completely miss the point. To explain this concept I'd like to turn to the letter of 1 John, specifically the opening verses, and show that the Apostle gives us a better way forward to think about these things. Let us examine the opening verses to this letter:
That which was from the beginning, which we have heard, which we have seen with our eyes, which we looked upon and have touched with our hands, concerning the word of life— the life was made manifest, and we have seen it, and testify to it and proclaim to you the eternal life, which was with the Father and was made manifest to us—that which we have seen and heard we proclaim also to you, so that you too may have fellowship with us; and indeed our fellowship is with the Father and with his Son Jesus Christ. And we are writing these things so that our joy may be complete. – 1 John 1:1-5
I've specifically bolded a few words in this passage for a reason. In these opening verses, John is giving a tell of sorts; he is making his point before he actually makes THE point. You see, these verbs – have heard, have seen – are in a very special tense. To the English eye these verbs might appear as a simple past tense, as if John simply heard and saw something as a one-time past event. But this is not the point John is trying to communicate. This special tense John employs suggests an idea of a past action that has present and ongoing consequences. With that knowledge in mind, we could (roughly) translate what John is trying to say as follows, "That which was from the beginning, which we have heard, which we have seen with our eyes, has a present and bearing consequence on our present existence." With this knowledge in mind, the question we must ask then is, what is the present and bearing consequence?
John's epistle will continue on for five chapters of wonderful writing. In the following chapters, John connects a theme that is already present in these opening verses. Let us take a look at a few of the verses that connect this theme:
If we say we have fellowship with him while we walk in darkness, we lie and do not practice the truth. – 1 John 1:6

Whoever says "I know him" but does not keep his commandments is a liar, and the truth is not in him…whoever says he abides in him ought to walk in the same way in which he walked. – 1 John 2:4, 6

Whoever says he is in the light and hates his brother is still in darkness. – 1 John 2:9

No one who abides in him keeps on sinning; no one who keeps on sinning has either seen him or known him. – 1 John 3:6

By this we know love, that he laid down his life for us, and we ought to lay down our lives for the brothers. But if anyone has the world's goods and sees his brother in need, yet closes his heart against him, how does God's love abide in him? – 1 John 3:16, 17

In this is love, not that we have loved God but that he loved us and sent his Son to be the propitiation for our sins.Beloved, if God so loved us, we also ought to love one another. – 1 John 4:10,11
We could go on! The point John is making in the above verses, in this entire letter, and even in his opening statement is this: If you understand the love of God for us in Christ, then you will love him, keep his commandments and love your neighbor.
This is why John repetitively employs the use of that special verb tense. The Apostle John wants to stress the point that if you have heard and seen the gospel of Christ, if you understand His great love for you in dying for your sins, then it will be evident in your love for God and neighbor. In a now famous sermon, Pastor Art Azurdia puts it this way:
And seeing us in our misery and need, He doesn't just feel for us, He takes the necessary action to relieve our distress. He leaves the eternal glory of heaven and the perfect fellowship of the Trinity. He condescends to us, lives among us, suffers like us, dies for us! Do you understand this? Have you experienced this?

How then is it possible to experience it and not display it? It isn't possible! You haven't experienced it if you don't display it.
The Apostle John is clear, as is the entirety of Scripture: Grace fuels our love and obedience. Obedience cannot create or fuel love and grace, and grace cannot be present without a living and active faith.
Christian: if you understand the love of God for you, is it present in your love for Him, his commandments, and your neighbor?